For big retailers with a lot of suppliers, it doesn't make much sense — for retailers or their vendors — to ship items directly from vendors to each individual store. It may not even make sense for vendors to ship to each regional distribution center.
That's where consolidation centers come in.
"It's an opportunity upstream in the supply chain to receive goods," Jason Lockard, senior vice president of enterprise for BlueGrace Logistics, told Supply Chain Dive in an interview. It allows companies to "receive these goods and get them in a more organized manner to consolidate into modes of transportation that are more cost-efficient.
Challenges with the 'old model' of inbound logistics
Home Depot has been able to eliminate 4,000 inbound truckloads by using what it calls inbound freight consolidation centers. Last summer, the retailer announced it will spend $1.2 billion on 170 distribution centers by 2023.
Walmart also recently announced that this July, it will open a 340,000-square-foot high-tech consolidation center in Colton, California, that will receive, sort and ship freight from suppliers before sending them to a distribution center.
Consolidation centers themselves aren't exactly new, Rob Montgomery, senior director of inventory flow and supply chain for Walmart, told Supply Chain Dive in an interview. "We've been running our own internal network for consolidation centers for over 20 years."
---
"We're having two chances to decide where to move the inventory in real time based on consumer demand."
Rob Montgomery
Senior Director of Inventory Flow and Supply Chain, Walmart
---
The new Colton facility "is the first of its kind to leverage best-in-class inventory management and automated inventory receiving and sortation. The result is more efficient orders for our supplies and better in-stock for our customers," he said.
While big suppliers could bring a truckload of inventory to a store, smaller suppliers can't. Right now, Walmart's small suppliers (who they define as suppliers who send less than a truckload to distribution centers) may receive up to 42 purchase orders (POs) — one for every Walmart distribution center. 
Often, said Montgomery, suppliers hire less than truckload (LTL) carriers, who combine their orders with those of other smaller suppliers, then deliver them to distribution centers.
"There's a lot of so-called inefficiencies in the old model, especially for suppliers that are shipping LTL directly into those regional distribution centers," Lockard said.
Moving inventory based on real time demand
Consolidation centers seek to solve these inefficiencies. Items from vendors whose POs are smaller than what would fill an entire truck are consolidated with other similar shipments so that half-empty trucks aren't showing up at stores.
Under Walmart's new system, suppliers receive just one national PO, and all of their items will go to the California high-tech consolidation center, instead of receiving up to 42 smaller POs with shipments needing to go individually to each of those centers.
"It allows us to buy in full pallets and full trucks," Montgomery said. From there, items will be resorted and sent to regional distribution centers, and then to stores.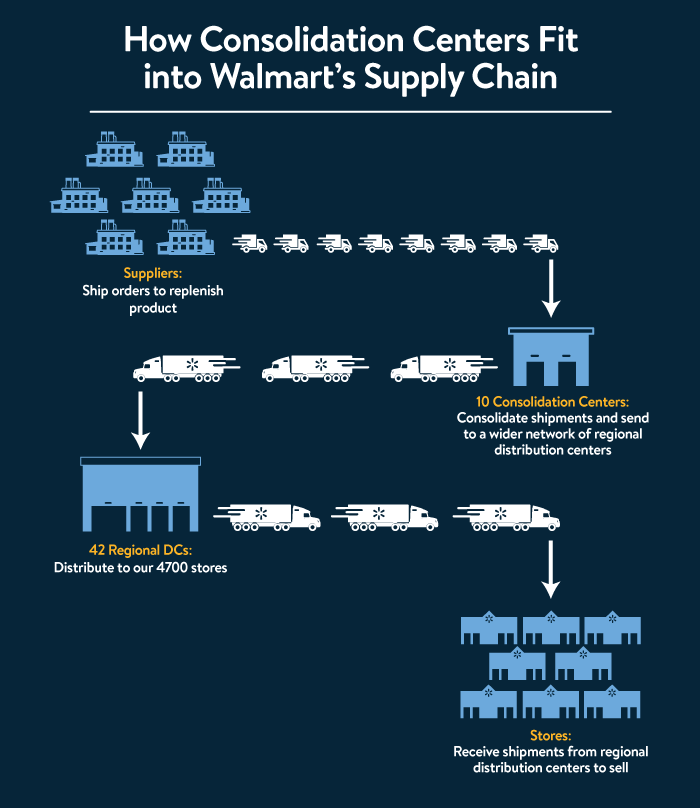 Walmart also sees its consolidation centers as a better way to get the right inventory to the right stores.
"We're having two chances to decide where to move the inventory in real time based on consumer demand," said Montgomery. "We believe this investment is going to really set Walmart apart by being able to create a national purchase order for 4,600 stores where we can buy and flow inventory more efficiently than anybody else."
Consolidation helps suppliers with tight delivery windows
Walmart pitches its consolidation centers as opportunities for cost savings for small suppliers. Lockard, whose company represents suppliers that sell to Walmart and other big retailers, sees how this would be extremely helpful to suppliers. "They don't have to now build pallets by store order. They can just get large POs and Walmart does the sorting for them," he said.
He also noted that Walmart recently transitioned to a tight on-time, in-full (OTIF) policy. Target implemented a similar system in 2016. At Walmart, suppliers face a 3% chargeback and poor scorecard ratings, which can affect future purchases, if they can't comply, so the pressure to get items from suppliers to retail distribution centers as quickly and efficiently as possible has increased. 
The goal of both the new consolidation center and OTIF, he said, is to get items to Walmart store shelves as quickly as possible. "At the end of the day, they want to make sure there's no empty shelves. It's not just that the product does not get purchased but, from a consumer standpoint, it's a lost opportunity cost. Nobody really goes to Walmart to buy one item," said Lockard.