Dive Brief:
The U.S. Postal Service is a "formidable opponent" to UPS and FedEx, Morgan Stanley analysts wrote in a research note provided to Supply Chain Dive, as the agency plans to focus on its last mile and e-commerce business segment.
USPS' operating revenue increased $1 billion over the last fiscal year, driven by growth in its shipping and parcel business. 
The Postal Regulatory Commission last week approved USPS rate hikes proposed in October, increasing prices by more than $1 in some categories. 
Price increases for parcel deliveries
| Product | Current | New (starting Jan. 27, 2019) |
| --- | --- | --- |
| Small Flat Rate Box | $7.20 | $7.90 |
| Medium Flat Rate Box | $13.65 | $14.35 |
| Large Flat Rate Box | $18.90 | $19.95 |
Source: U.S. Postal Service
Dive Insight:
USPS has been financially unstable for many years due to declining volumes and its operating structure, but the agency may have found its niche. 
The Postmaster General "highlighted growth in last mile and e-commerce package delivery as focus areas" on a conference call on USPS' financials, Morgan Stanley analysts said. 
Parcel delivery is the only segment of USPS' business that grew over the last year. Meanwhile the bread and butter of USPS' offerings for years — first-class mail — is on the decline as many consumers favor electronic communications over snail mail.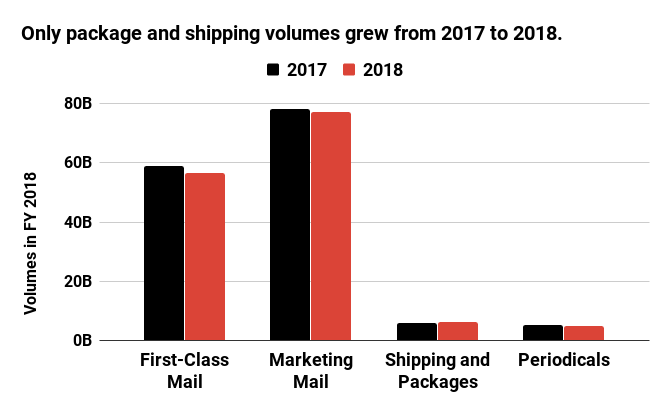 The shipping and packages business helped boost the agency's operating revenue, "which more than offset revenue declines in First-Class and Marketing Mail," USPS said in a news release last week.
E-commerce growth, along with approval to raise shipping rates beginning Jan. 27, 2019, could help the financially floundering agency.
At the same time, though, it "could ironically cost UPS and FDX, who use USPS in last mile delivery in many locations," analysts said. ​The law stipulates USPS must deliver to every jurisdiction in the U.S., making it an ideal partner for logistics providers to move shipments through the last mile.
In using USPS' last mile services, UPS and FedEx could be paying $1 more for some packages — or passing that cost along to shippers. 
A Credit Suisse analyst estimated the postal rate hikes could cost Amazon up to $1 billion. Morgan Stanley analysts did not give an estimate on how much the rate increases would costs UPS or FedEx.