U.S., Mexico and Canada will collaborate on five initiatives to improve North American supply chain resilience and grow industries such as EV and semiconductor manufacturing, the White House said Tuesday.
The projects include geological surveys to map reserves of critical minerals, a workshop to assess future advanced manufacturing labor needs, and forums to discuss investment opportunities in semiconductor supply chains, according to a White House fact sheet. Specifically, the countries agreed to:
Organize a trilateral semiconductor forum in early 2023 that includes "senior industry representatives" and cabinet officials from the three countries to "adapt government policies" and grow investment in the sector.
Coordinate efforts to map the semiconductor supply chain and identify unmet needs in the industry, so the three countries can identify "complementary investment opportunties."
Collect details on critical mineral resources and reserves, and organize a joint workshop between the three countries' Geological Surveys to share data and facilitate cooperation.
Create the North America Student Mobility Project in coordination with Canada and Mexico. The project will be an expansion of the decade-old 100,000 Strong in the Americas Innovation Fund "to increase student development and mobility."
Convene experts from industry and academia for "design sessions" that identify the skills needed to develop North America's workforce over the next five years in key advanced manufacturing and logistics sectors, such as semiconductors, information and communications techonlogy and biomanufacturing.
The announcement came as the leaders of the three countries met in Mexico City this week for the tenth North American Leaders' Summit, a series of bilateral and trilateral meetings to help align and discuss regional priorities.
The two-day summit saw the countries' leaders and their delegations focus on a series of topics, including efforts to combat climate change, drug trafficking and racism. The leaders also focused significantly on economic issues, as the three countries seek to build more resilient supply chains in key industries.
Ahead of the summit, the U.S. and Mexico publicized a shared desire to collaborate on actions that would attract supply chains currently based in Asia to move to North America. The U.S. last year passed the CHIPS Act, a law that incentivizes semiconductor manufacturing investments in the country.
And in December, Mexico's Economy Secretary Raquel Buenrostro met with U.S. Secretary of Commerce Gina Raimondo to discuss the relocation of companies from Asia to North America and ways to strengthen semiconductor and printed circuit board supply chains, according to a readout of the meeting.
The conversation continued at the summit, where U.S. President Joe Biden and his counterparts discussed ways to increase North American manufacturing in target industries, such as semiconductors and electric vehicles, with his counterparts.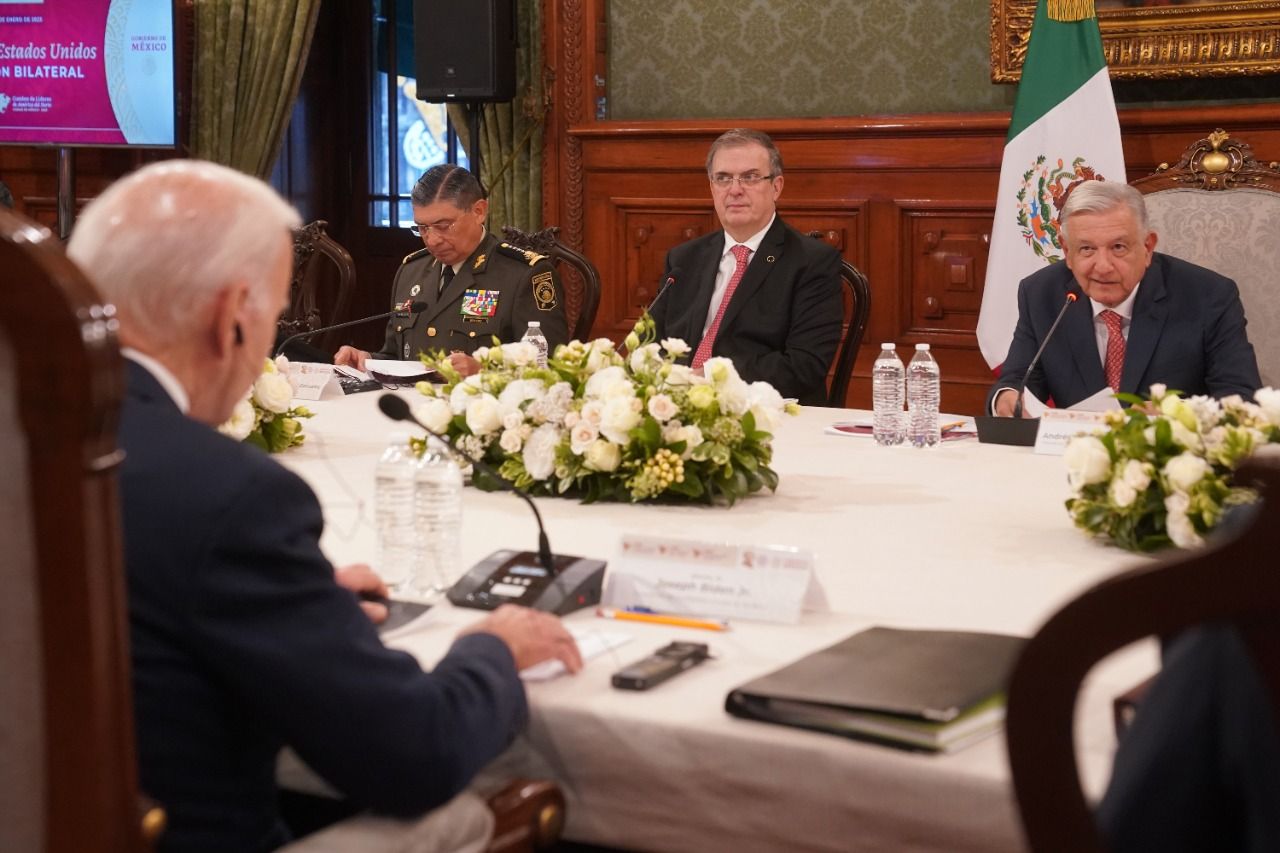 During their bilateral meeting, Biden and the President of Mexico Andrés Manuel López Obrador discussed "greater economic integration to increase productive capacity and promote inclusive growth, including incentives under the CHIPS and Science Act to promote investment in semiconductor clusters along the border," among other topics, according to an official readout from the White House.
Biden also discussed resilience in manufacturing with Canadian Prime Minister Justin Trudeau, during their bilateral meeting Tuesday. Ahead of the meeting, Biden remarked both countries are in the process of strengthening their their supply chains to prevent another disruption that would "cause us to not have access to critical elements that we need to do everything from build automobiles to so many other things."