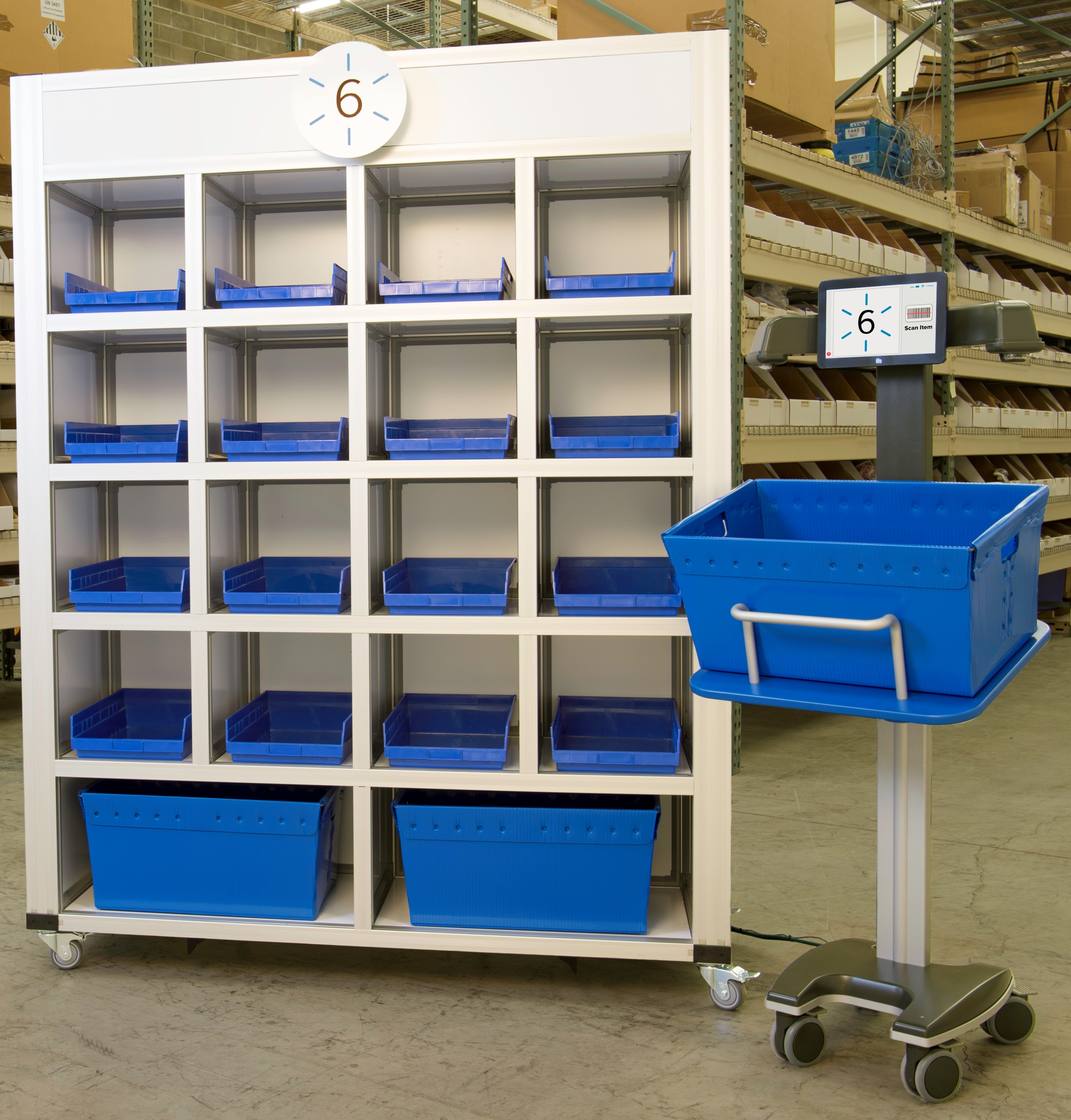 Meet Chuck. He's on the right there, holding the blue bin.
Chuck and his robot coworkers (also named Chuck) direct warehouse workers on their picks and deliver empty bins to employees, where they can place the products they've picked.
The Chuck robots, developed by 6 River Systems, coordinate with smart kiosks, sensors and their human coworkers, all in the name of efficiency.
Chuck was one of hundreds of machines and tools on display at ProMat 2019 in Chicago last week.
This was my first time attending the massive materials handling show. I felt like a kid in a very large (and not at all edible) candy store. The tools ran the gamut from casters to tires to shrink wrap machines to forklift to robots. 
"Go ahead, you can touch it." I couldn't resist that invitation from a sales rep at Bastian Solutions and tapped the lime green cobot that moves parcels from one stack to another. Later at the Locus Robotics booth, I followed instructions on the cobot's screen and picked a few items to place in its bins. My training took about 30 seconds.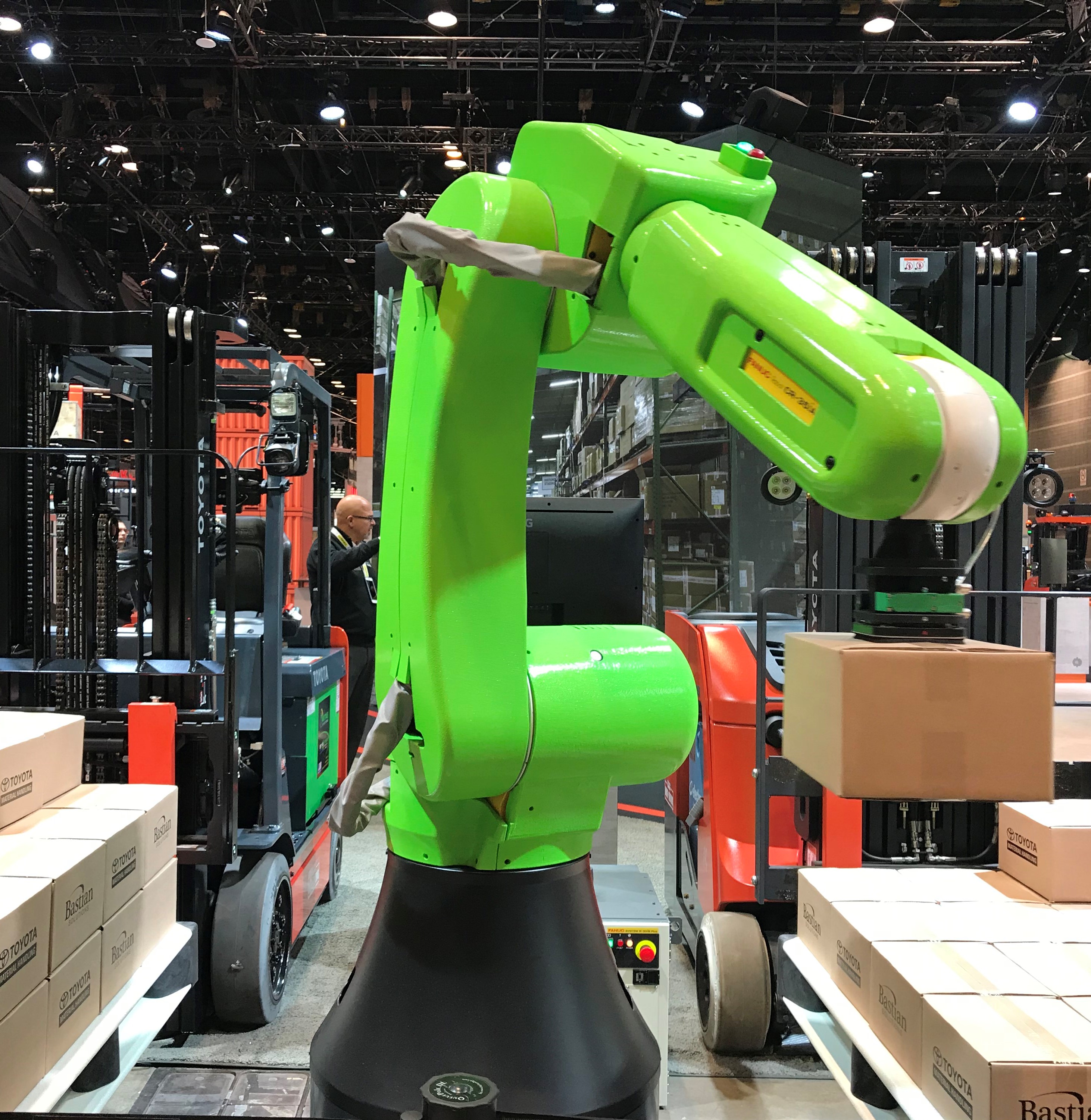 As a first-timer, I don't have much of a frame of reference for ProMat. But attendees I spoke to who've been coming to the show for several years said they noticed a change this time: a greater focus on robotics than in years past.
Perhaps a greater abundance of robots is an indication of a changing perception around the machines. A couple years ago, robots were a reality only in science fiction movies. Now, companies across industries are implementing the bots into their operations. Walmart recently said it's adding 4,000 bots, some with back-end and others with store-facing functions. In the next six years, we could have 4 million robots roaming around warehouses worldwide. 
The types of robots and automation seemed endless as I walked the aisles of the show floor at ProMat. What I realized when talking to exhibitors is a cursory glance at the gadgets and gizmos (no matter how fun) doesn't tell the full story of the technology.
The impetus behind the design of each tool can be summed up in one word: humans.
Casters were designed to make it easier for humans to push a heavy load. Linde touted operator safety and comfort as some of the top features of their forklifts, providing the worker with a comfortable seat and plenty of leg room (maybe Linde should design airplane cabins...).
Men's apparel brand Haggar reorganized its facilities "to make life much easier for our folks," said Director of Operations Dawn Fritche. This was after the company realized the most frequently picked SKUs were in the corner on the bottom shelf, so workers had to constantly bend to pick products.
Robots, contrary to some beliefs they're taking away human jobs, pick up the monotonous work and allow humans to complete more meaningful tasks. Walking in the warehouse can account for as much as 80% of a worker's shift. "Let's let the robots walk around, and let's let the humans make the picks," said Karen Leavitt, the CMO at Locus Robotics. 
---
"There is no loyalty between the worker and the employer."
Karen Leavitt
CMO, Locus Robotics
---
The challenges of labor management, productivity and costs were discussed frequently at ProMat, with sessions on workforce management software, recruitment and retention, convergence of technology and human capital and labor shortages.
About 7.6 million jobs in the industry are open today, according to John Slavik, iWarehouse sales manager at Raymond. MHI's annual report found hiring qualified workers was the biggest challenge among survey respondents.
And humans are costly. A presentation from Raymond showed labor makes up the largest share of operations costs — 74% of total expenses.
The answer to cost savings and better ROI seems like a no-brainer: reduce labor costs. Now here's the final Jeopardy question: how?
Reducing the workforce through layoffs or attrition (everyone I spoke to at ProMat had a strong preference for the latter) is one option, and robots and automation can replace some of the manual tasks once performed by humans.
ProMat session speakers suggested improving retention and developing workers as another way to reduce high labor costs.
"Workers understand, this is a strictly transactional relationship. There is no loyalty between the worker and the employer," Leavitt said. Employees in the warehouse industry often hopscotch to a competitor if it means a higher hourly wage or better working hours. Onboarding and training workers, only to have them leave for the warehouse down the road, is a big cost strain for operations managers.
The right technology solutions might help companies show the value they see in their workers and promote better retention. 
Locus rolled out "gamification" on its cobots' screens. The feature creates friendly competitions for workers and rewards them for productivity. Kary Zate at Locus told me employees have reacted positively to the gamification and said they feel more engaged in their work.
New technologies that ease employees' jobs and motivate them to stay on board will continue to emerge — and I look forward to meeting these new robots at future Modex and ProMat shows. But I anticipate the purpose behind the glitz and the glam will remain the same: to serve the workers, without whom supply chains simply couldn't function.