Hi, welcome. This is Patent Pending. Supply chain-related patent applications are filed every week and this is where we'll talk about the ones we think are the most fun or could have the biggest impact on the supply chain. ​We hope this gives you an idea of where supply chains might be heading and what the industry is thinking about. Keep an eye out for this new column on Fridays. We'll be back with more patents on a regular basis. 
Delivery from the sky
Walmart filed two patents this week looking at drone delivery, specifically dealing with how to safely and securely drop off packages when they get to their destination. Currently, receiving a delivery from a drone means having the drone drop it on the ground, at least according to Amazon's FAA application and photos from Project Wing. These patents show Walmart is trying to work out this crucial part of the drone delivery equation. 
One system Walmart envisions involves a drone landing on a platform outside of a building, sending a signal to the platform letting it know the package has been delivered, which then opens a trap door. The patent says a "transportation system" will then move the package from the outside of the building to the interior, but it's not clear if this is via a slide, as it appears in the picture, or something more automated.
Another patent Walmart filed this week outlines a slightly simpler solution to drone delivery. This one is a window unit that includes a frame holding a net where the drone can drop packages, along with sensors to confirm the delivery of the package.
UPS became the second company this week to receive some version of the air carrier and operator certification from the Federal Aviation Administration. As these deliveries begin, figuring out this last leg of the journey will be important to ensuring drone delivery is a realistic option.
Read up:
Look up for fulfillment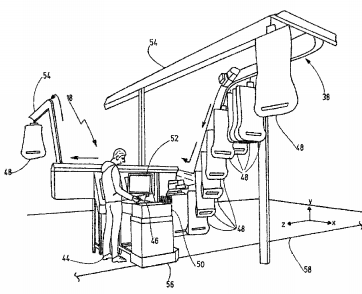 As the number of e-commerce orders grows and the time in which deliveries are promised is shortened, companies are putting serious thought into how to quickly get items from inventory storage to packing and shipping stations within fulfillment centers. Schaefer Systems International, a company that specializes in materials handling, filed a patent this week that deals with just this challenge.
This system uses a network of overhead conveyor belts that carry pouches with e-commerce items inside, and a network of floor-based conveyor belts and automated guided vehicles. The method used to transport the item depends on the order's size.
The application specifically deals with orders that have both smaller items that can use these overhead pouches and larger items that cannot. The system uses a control process and algorithms to create a packing pattern for the order. These items are then sent to a "merge-and-pack station" where they are packed into "one or more shipping units."
A decent amount of research has been done in this area so far. In 2017, a group of researchers from The Hong Kong Polytechnic University worked with a Hong Kong-based logistics company to implement a semi-automated batching process for picking that cut the average pick time from 6.8 minutes to 1.2 minutes.
The principles in the Schaefer patent application are echoed of Amazon's Kiva system and Ocado's automated grocery fulfillment warehouses. All three systems seek to keep the picker as stationary as possible, since human dexterity is still crucial to the picking process, and then sort and move orders around the picker and out of the warehouse ASAP. Utilizing overhead space is a new addition to the many technology solutions striving for fast picking. 
Read up:​
Lost inventory is no more
The problem A-1 Packing Solutions lays out in the patent it filed this week is one where not everything goes to plan. The mistake, in this case, is misplaced inventory in a warehouse.
Products can be moved to accommodate new inventory, for cleaning, swapped with another product or lost completely — all unnoticed and untraceable, A-1 says. As a solution, the company's patent places RFID tags on inventory to communicate with readers on forklifts or other transportation equipment, allowing product information, including location, to be transported via the RFID reader to a visual display in real time.
Many companies have already started to realize the important role RFID can play in their supply chains. Delta uses it to track bags, and Nike credits the technology with giving it a more complete view of its inventory. 
Read up: