Dive Brief:
Trucking shipments increased 0.2% month-to-month and 6.3% YoY in November 2017, while expenditures increased 0.9% month-to-month and a whopping 14.3% YoY, according to the Cass Freight Index.
The data marks November 2017 as the point of strongest growth since November 2007.
Because 2017's data was so strong, the Cass Freight Index predicts 2018 will see record highs in the trucking industry.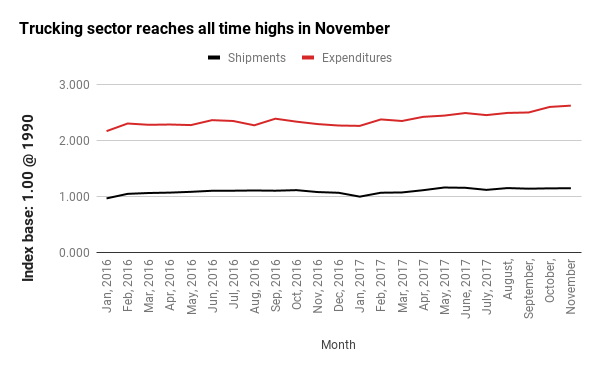 Dive Insight:
The trend for trucking in 2017 was strong growth — not as strong as the record-setting 2014 — but high enough that industry analysts predicted that trucking and the economy were on the upswing.
Moving forward into 2018, it looks like that trend will continue into record highs. Not only that, but the truckload turnover jumped five percentage points in Q3 2017, to 95%, according to the American Trucking Associations.
High truckload turnover rate means business is good for the trucking industry — and the economy. It also means driver competition will increase going into 2018.
"The tightening of the driver market has raised fears about the driver shortage, which will hit an all-time high this year," said Bob Costello, chief economist for the ATA, according to the December press release.
As the ELD mandate is implemented, that could cause some drivers to quit the business, which would loosen the competition.
At the moment, the industry is poised for the strongest year ever since the trucking recession, but only if it can manage and mitigate labor issues (like misclassification), ELD implementation and the driver shortage.