Dive Brief:
May 2018 marked one of the strongest months for loaded container imports at U.S. ports in at least two years, according to combined port data collected by Supply Chain Dive.
The top four West Coast ports handled roughly 968,000 TEUs, a 2.1% increase from May 2017 figures. East Coast ports' growth was more significant, as the top four ports' 662,000 TEUs handled represent a 6.3% increase from the previous year.
The rise in demand may also be reflected in freight rates, as the downward trend began to reverse in May. Rates from China to the U.S. West Coast rose 28.0% in May on a MoM basis, and by June, had risen 1.52% compared to the previous year. East Coast shippers saw rates rise by 3.9% YoY in June 2018.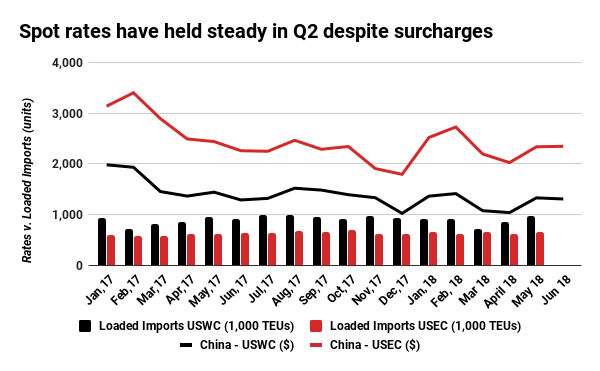 Dive Insight:
Countless variables converge to determine spot rates on a month-to-month basis, but a general trend became clear in May: The rate increases expected for peak season will be a bit more steep in 2018.
An early look at July shows ocean freight rates will spike to levels unheard of in the past two years.
The surge in imports that began in May is a likely accelerator of this trend. Shippers, perhaps attempting to get ahead of a looming trade war, and bolstered by a strong global economy, are importing in record numbers this year.
The import trends strain available capacity and routes at a time when ocean carriers are not in a position to expand transportation supply, due to high fuel prices. In fact, carriers are cutting their services in an attempt to save their financials.
The high fuel prices are another likely reason spot rates are set to increase so dramatically. Shippers are pushing back against carriers' practices of "emergency" fuel surcharges on contract rates. Shippers avoiding the high fees may turn to the spot market, straining that, while carriers are forced to price-in cost increases into spot rates.
Regardless of the reasons, year-over-year trends suggest imports will not level off any time soon, and as peak season nears, neither will rates.