Dive Brief:
The U.S. Patent Office recently granted Amazon a patent for a perforated parcel shipping container that can transform into children's toys and other objects, to be selected by the customer.
The shapes include a dollhouse, a rocket, an airplane, a sword and shield, a tablet stand and more. Some designs feature the words "brand awareness," indicating Amazon or third-party branding could be printed on the cardboard in order "to reinforce a positive brand association," according to the patent.
Amazon did not confirm to Supply Chain Dive whether it is actually working on a shipping box with purpose beyond its initial journey.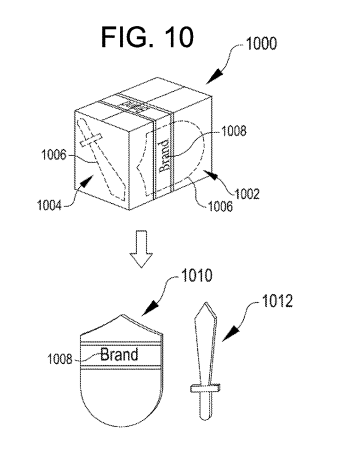 Dive Insight:
Cardboard waste is a common consumer concern, which has, in part, led to the creation of no-waste e-commerce schemes such as Terracycle's Loop. The volume of cardboard used for shipping boxes is steadily increasing in the age of e-commerce. Packaging research firm Smithers Pira estimates the e-commerce industry uses roughly $20 billion in corrugated cardboard per year.
It's no surprise Amazon might want to create more positive feelings toward shipping boxes than a simple smile logo can provide. Making use of all this cardboard as toys and useful items could quell some consumer guilt, though it likely wouldn't keep cardboard out of the waste stream for long.
Beyond waste, the idea presents at least two revenue-generating opportunities. The first is from "brand awareness" sales — the brand names that could cover the sides of the planes and rockets, etc.
The second could come, albeit less directly, through "collectibility." The patent indicates the concept of collectibility could be created through a series of related individual toys, or by including one piece of a set needed to construct a single object. It worked for McDonald's right?
If and when Amazon decides to pull the trigger, the challenges would come with the execution. Creating multiple designs of a transformable cardboard box would add considerable complexity to the fulfillment process. Assuming the perforations of the box were made offsite, Amazon fulfillment processes would still need to be able to pair the chosen box to the correct order. The patent says even if the customer doesn't choose a box design, an algorithm could match a design to either the customer's current purchase or past purchases.
Given recent changes in United States Postal Service rates regarding package volume, all shippers must be more inclined toward choosing the most efficient box size for each shipment. Pairing not just product SKUs, but box SKUs, to individual orders, is an order of magnitude beyond current fulfillment needs.