UDPATE: Hurricane Irma battered Florida over the weekend and continues to threaten major cities as a tropical storm. Thousands are without power. Floods have affected the region. Warnings and evacuations are ongoing. The bullets of this post have been updated with the latest information. 
Dive Brief:
Hurricane Irma made landfall on Florida Sunday as a Category 4 hurricane, ravaging supply chains on the heels of Hurricane Harvey's devastating strike on Texas and Louisiana last week. Ports, residents and businesses are reacting accordingly to one of the worst landfalls in 13 years. 

Deringer

 reports most Florida ports have closed gates, and are conducting damage assessments. CSX suspended intermodal operations to Florida as of 5 P.M. Thursday, and some airports have closed or placed embargos on freight shipments, according to Air Cargo News.
The Weather Channel reports Jacksonville, FL, is facing historic flooding as the then-hurricane hit both coasts of Florida, leaving thousands without power. Irma has since weakened to a Tropical Storm, but still has highly damaging potential in Georgia, South Carolina and Alabama, according to the National Hurricane Center.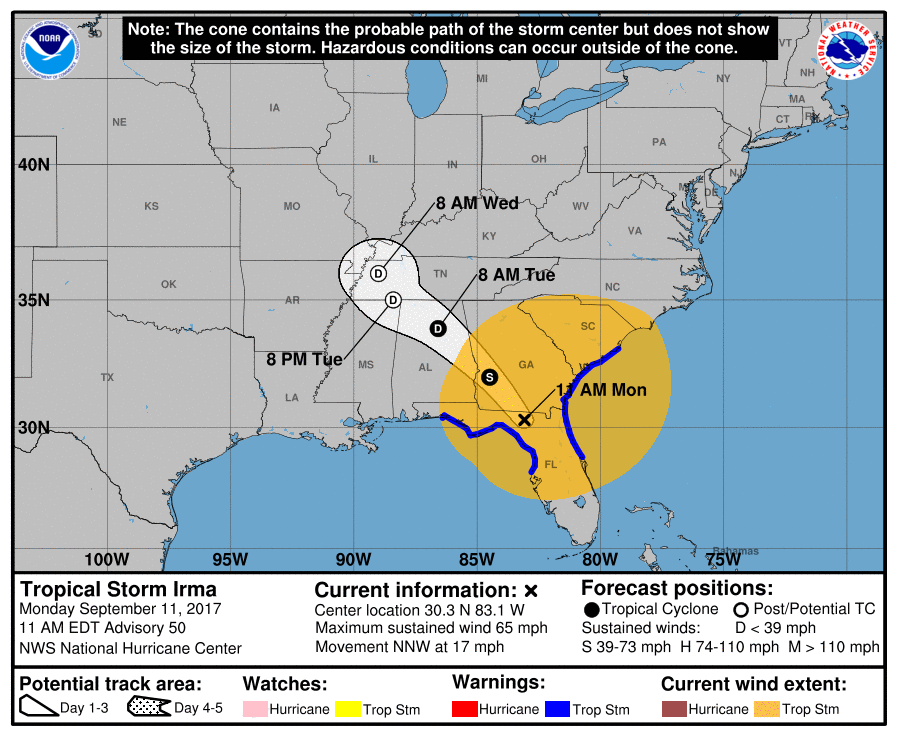 Dive Insight:
Hurricane Harvey demonstrated just how devastating a storm can be to a nation's economy, as floods, demand for disaster relief, and shuttered commodity production facilities raised costs across the board.
Reports in Harvey's aftermath indicate companies' bottom lines are suffering due to the storm. Union Pacific, for example, told Reuters it expected to lose $0.05 earnings per share in Q3 due to lost business and infrastructure repair costs. With 800 million shares, that would total an estimated loss of $40 million for the railroad because of Harvey. Meanwhile, Rubbermaid's shares tanked after the company admitted "nearly all" suppliers in Texas and Louisiana had been affected by the storm, CNBC reports. Similarly, major hospitals may soon face similar shortages of medical supplies and devices, according to MarketWatch. 
Clearly, the business implications span across industries, and if Hurricane Irma impacts Florida with a similar ferocity, the entire nation will suffer. 
Like Texas and Louisiana, Florida is a major actor in many businesses' supply chains, both for its ports and energy production. The Census Bureau reports Florida's top 25 exports include civilian aircraft, engines and parts; various hardware components for phones; medical devices; auto parts; food ingredients and drugs. Beyond shutting down production for these facilities, the storm may impact surface transportation supply and demand, particularly in the trucking industry.
In the aftermath of Harvey, Trans4Cast data shows market pressure increased by 10.01% week-over-week, thanks to a 4.62% decrease in supply (trucks) and 4.93% increase in demand (loads). Rates, in turn, have risen by 3.05% overall — and 3.4% excluding the fuel surcharge — showing the effects of market pressures outweigh the cost of the fuel crunch.
"We heard on September 1st that some port facilities were reopening," the Trans4Cast team said in its weekly commentary. "This is the beginning stage of a return to high levels of activity, but not to normalcy. That won't be seen for months. The near-term forecasts will be less reliable due to the influence of Hurricane Harvey and its aftermath. Keep an eye on them, but take them with a grain of salt."