Volumes common in peak season are occurring at this time of year, resulting in carrier surcharges. Delivery guarantees are also suspended as carriers face increased demand with customers ordering more online during the pandemic. Now 70% of UPS' deliveries are residential – up from 50% – and these are less profitable than commercial deliveries.
Shippers large and small are getting hit with surcharges (some depending on volume) ranging from 30 cents per package for UPS Ground and SurePost, to $31.45 per large package shipped with UPS.
FedEx added surcharges of 10 to 45 cents per pound for parcels out of China, with minimum parcel and freight charges. Soon after UPS announced domestic surcharges, FedEx followed suit. Even Amazon's first quarter shipping costs rose 49% compared to the same quarter in 2019, while revenue was only up 26%.
| Service level | Effective date | Surcharge |
| --- | --- | --- |
| UPS Ground Residential | May 31 until further notice | $0.30 per package |
| UPS SurePost | May 31 until further notice | $0.30 per package |
| Large packages (all service levels) | May 31 until further notice | $31.45 per package |
Source: UPS
If shippers haven't renegotiated carrier contracts in the past year, perhaps now is the time. "Nine out of 10 shippers are leaving money on the table," said Robert Martinez, founder and co-CEO of Shipware, a consulting firm working with shippers to reduce parcel and LTL spend.
Carrier negotiation 101: Start with benchmarks
There's a misconception that negotiation only occurs in January when carriers announce their general rate increases, Martinez told Supply Chain Dive. In recent years, FedEx and UPS have also announced increases mid-year. "Those are negotiable as well," he said. 
Now is a good time for supply chain managers to renegotiate with carriers, as B2B volume starts increasing, and these are the deliveries carriers are most interested in, said Jamie Vogel, VP of sales and marketing at Transportation Impact, which counsels shippers through negotiations.
Before starting negotiations, shippers should understand their contracts, measure the impact of their shipping practices and get benchmarks to understand what's available in the marketplace. That includes identifying shipping characteristics like the percentage of packages charged by actual weight versus dimensional weight (DIM), those charged the minimum cost, and which accessorial charges are most common. 
"The analysis pulls back the veil of what they should be paying based on volume characteristics," Vogel told Supply Chain Dive.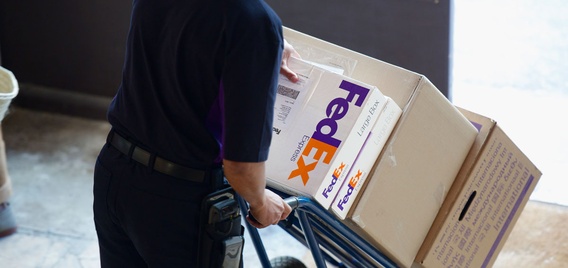 The biggest challenge shippers will have in renegotiating is benchmarking for their new shipping normal. Shipping volume and characteristics were different the past three to six months for many shippers, Joel Dunkel, president of Parcel Forum trade show, said to Supply Chain Dive.
Some companies may not know if their shipping volume and characteristics are permanent changes or just blips. The direct-to-consumer shipper may have experienced huge increases during the pandemic, which may not last when consumers return to brick-and-mortar shopping.
5 contract elements up for negotiation
Martinez estimates that optimizing and renegotiating the contract can save shippers 5% to 50% above their current discounts.
"We found that as carriers got more sophisticated, they've implemented all sorts of new pricing elements and contract 'gotchas,' most of which are negotiable," he said.
Here are some of the contract points up for negotiation.
1. Minimum charges
Most shippers focus on obtaining higher discounts on published rates, said Martinez, but they should look at other carrier revenue enhancers like minimum charges, which have crept up over the years.
"If UPS and FedEx say the minimum charge per package is $8.32, you can move from a 50% to 90% discount and not realize any savings" in some situations, he said.
2. Dimensional price
Package cost depends on whichever is greater: actual weight or DIM weight (length x width x height), using a standard 139 divisor. That divisor decreased in recent years, from no DIM divisor to 194 to 166 and now 139.
"The lower the number, the worse the cost impact on shippers," Martinez said.
Shippers should understand the proportion of packages subject to DIM weight and the cost, and they can negotiate the divisor.
3. Accessorial costs
Accessorial fees, or surcharges, are common with the major carriers. That includes surcharges for residential deliveries, deliveries outside major areas, oversized packages, parcels not in corrugated boxes, fuel, additional handling cost and others. "Accessorials can add as much as 30% spend with carriers," Martinez said. "Each needs to be measured, understood and benchmarked before asking for concessions."
In some cases, carriers introduce these charges temporarily but they become permanent, like the fuel charges.
"Fuel costs are way down from where they were in 2008 to 2010, but the charges never went away," Dunkel said. While COVID-19 surcharges are new, it's impossible to know whether they will become permanent, he said.
4. Revenue bands
Contracts are increasingly complex and conditional, with a lot of moving parts, said Martinez. "It's predicated on how much revenue and volume you give the carrier," he said. Rates are tied into revenue bands, with specific discounts based on spend.
Agility is important, especially with changes from COVID-19, as FedEx capped volume from some existing high-volume customers, and demand for shipping exceeds supply. But revenue bands make it difficult for shippers to optimize price and also add in regional carriers for part of the business. Some contracts require shippers to give all their business to the contracting carrier, though this is negotiable, Martinez said.
There are big discrepancies in penalties and advantages for switching revenue bands, Martinez said. If a shipper decreases spend, going into a lower revenue band, it might lose 20% of its discount. Conversely, a shipper doubling their business and going into a higher revenue band might only increase a 70% discount to 71%, he said. "It's highly punitive and doesn't favor the shipper."
5. Early termination
One of the landmines to avoid in negotiation is the early termination agreement, said Martinez. Carriers may offer large discounts to tie a shipper in during the contract period. If the contract is terminated early, the clause may allow the carrier to back invoice the shipper, for 2% to 2.5% of the previous 52-week revenue, he said. "There's no benefit to signing an early termination agreement."
Approaching the negotiation table
Shippers leave carriers for service and/or price issues. Those reasons should be woven into the business case presented to the carrier when requesting decreased rates.
The business case can include anticipated future shipping needs, along with pertinent changes such as increased e-commerce business, new products or anticipated arrival of a new CEO whose vision and directive is to cut costs, said Vogel.
---
 "Nine out of 10 shippers are leaving money on the table."
Robert Martinez
Founder and co-CEO, Shipware
---
Shippers can continue optimizing pricing based on changing carrier charges throughout the contract life. Martinez said his clients may negotiate prices six times in a three-year contract. Shippers can request to pay 2% less than any published rate increase, or set a certain increase for specific categories like weight and zone instead of an overall increase. The negotiated rate can also be tied into the general rate for a previous year.
But Martinez cautions shippers about the balloon approach to pricing, where shippers push for one concession, but they lose concessions elsewhere, and the overall price remains the same. Shippers should ask for concessions that are financially meaningful to them based on their analysis. Smaller shippers will have a harder time negotiating these changes compared to large shippers, Martinez said. 
Decreasing costs outside of contract negotiation
Contract negotiation is only one way to lower shipping costs.
Modal optimization
Shipping analysis and market research might show that using different shipping modes can save costs. Some time-sensitive packages can arrive at the same time or sooner thanusing UPS SurePost or FedEx SmartPost, especially as big carrier delivery guarantee times are suspended during the pandemic. Ground service may be a reasonable option as well.
Rates are important, but so are service reliability and offerings. Vogel recommends finding out what different carriers can offer, like faster transit time and a closer hub.
Regional carriers
Time-sensitive packages shipped regionally may arrive sooner and at a lower cost using a regional carrier versus a large national one. They may have fewer surcharges and simpler invoices, with plentiful capacity. Threatening to move some volume to regional carriers can be an effective negotiating point with large carriers. Or it may be more cost effective to use a large and a regional carrier.
Using two carriers increases shipping complexity, as shippers need technology to determine which carrier to use for which package and how to segregate them at the operating dock for pickups. There are more invoices to track as well. "You can reduce cost and improve service if you can deal with the complexity," said Martinez.
Audit recovery
Third-party automated recovery services track and recover money for service guarantee failures and incorrect surcharges and billing. Though FedEx and UPS have suspended service guarantees, shippers can see 1% to 10% in savings per week when the guarantees are in effect, said Martinez.
"With UPS, even if a package is one minute late, you'd get a refund in your account if you know what to look for," Martinez said. These services also look for incorrect rates and surcharges in the invoices, packages delivered to a commercial address but assessed as a residential surcharge, and UPS labels printed but not shipped or voided, said Vogel.
---
"With UPS, even if a package is one minute late, you'd get a refund in your account if you know what to look for."
Robert Martinez
Founder and co-CEO, Shipware
---
The audit software may include optimization reports, which might reveal high numbers of incorrect addresses, resulting in delivery surcharges. Implementing address validation tools can correct that problem and lower costs. Software may also identify options for choosing different shipping modes or late payments on carrier bills that are costing extra.
Shippers spending $100,000 a year have better options for negotiating with the big carriers. Consulting companies like Shipware and Transportation Impact may require a minimum annual shipping spend to use their services.
Even small shippers, though, have options. "If they're highly plagued with residential surcharges and DIM weight, and they spend $50,000 with UPS, maybe they could move to the Postal Service and use flat rate boxes to eliminate both those fees," Martinez said.