Dive Brief:
Retail associates and consumers said technology-equipped sales staff can give customers a better experience in the store, especially in light of the most common reasons shoppers abandon purchases, according to the annual Global Shopper Study from Zebra Technologies. 

Shoppers cited out of stock inventory (53%) and long checkout lines (34%) as the top reasons for abandoning their in-store shopping journey in the survey of 4,728 shoppers, 434 retail decision makers and 1,225 retail associates.

"While retailers are addressing fulfillment challenges, they also need to provide a more trusted, personalized shopping experience that gives customers what they want, when, where, and how they want it," 

said Jeff Schmitz, senior vice president and chief marketing officer of Zebra Technologies, in a statement.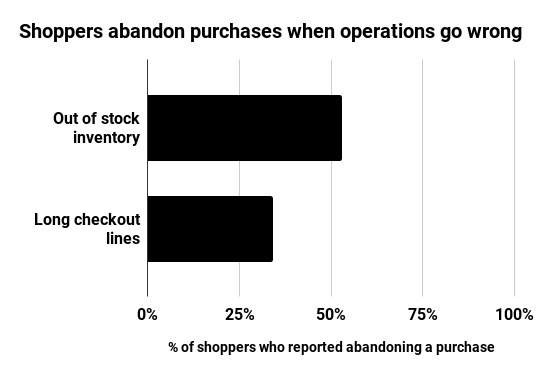 Dive Insight:
In the omnichannel age, customers want all options available to them when it comes to receiving their purchases. Despite the growing buzz around buy online, pick-up in-store (BOPIS) and (BOSS) ship-to-store options, placing an order in-store and shipping it home was preferred by 62% of shoppers surveyed. But just 34% of associates reported fulfilling orders this way today, and 42% of surveyed decision makers reported offering the option. 
Furthermore, with 51% of shoppers believing they are better connected with their smartphones than store associates, shoppers are clearly looking for more in-store digital services and real-time information.
In this, consumers and retail associates are in agreement. Two-thirds of surveyed associates reported they could provide better customer service with the use of a tablet device. 
Retailers have spent much of 2018 attempting to smooth the junctions between the links in the supply chain to make sure that both information and product flow freely and efficiently on its way to the consumer. Zebra's data confirms customers want to be brought into that information flow too. 
The goal, of course, is to avoid the circumstances that cause shoppers to consider leaving a store empty-handed, but fulfillment perfection is rare, and long lines (at least in December) are tough to avoid. Arming associates with more information and digital capability could protect those sales that might be lost to common peak season frustrations.